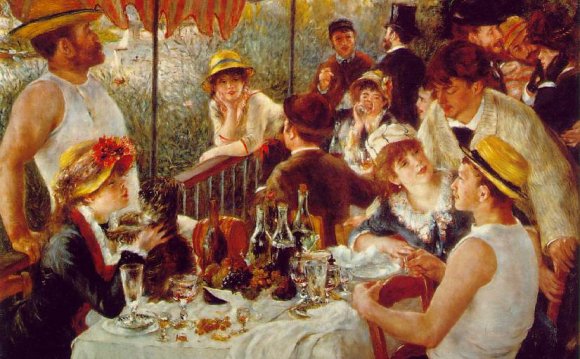 Renoir is an artist best known for his pleasant paintings and love of the female figure. He did not consider his art political or moralistic but simply a joy to create. Renoir indulged in painting and dedicated his life to it.
Early Years:
Pierre-Auguste Renoir was born in Limoges, France, on February 25th 1841. He began painting at the age of 13 when he found a job as a porcelain painter in a Parisian factory, creating flower designs on China.
In around 1860, Renoir joined the studio of the Swiss artist Charles Gleyre and met fellow students Monet, Bazille, and Sisley, all of whom went on to lead the Impressionist movement. In 1869 Renoir spent time sketching with Monet on the Seine river banks and it was during this time that they developed the famous technique and bright colors that defined the Impressionist movement.
Like many artists, Renoir endured difficulties in his early career, but turned this around as a portraitist in the late 1870s.
Middle Years:
In 1881 Renoirs trip to Italy opened his eyes to the works of Raphael, Velazquez, and Rubens and afterwards he was keen to experiment with a more traditional style. His later paintings, including The Umbrellas, are evidently more linear. Renoirs subjects also shifted from contemporary themes to more timeless ones, particularly nudes.
Advanced Years:
After marrying Aline Charigot in 1890, Renoir welcomed three sons into the world between 1885 and 1901: Pierre, Jean, and Claude.
In 1887, he completed a series of works of a group of nude female figures known as The Bathers. He continued painting until the end of his life and even took up sculpture despite suffering from rheumatism. Renoir died On December 3rd 1919 at his house in Cagne, aged seventy-eight.
Source: www.artble.com