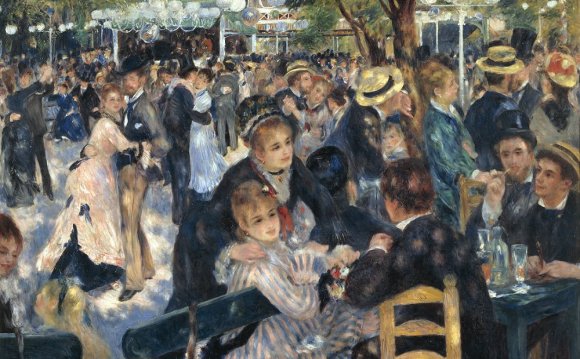 Renoir was born on February 25, 1841 in Limoges, Haute-Vienne, France. His parents were working class, and his dad was a tailor. He was the sixth child. As a boy, Pierre worked at a porcelain factory. He was a skilled artist by that age, because he showed his drawings around at work, and he was chosen to paint designs on the fine china at the Lévy Frères factory. His artistic talent was passed on to other places, and he ended up painting fans and religious wall hangings as well. He would visit the Louvre to go see and study the French master painters in hopes of becoming one of them one day. His favorite painting was The Bathers by François Boucher, a Rococo piece, which would later inspire some of his artwork.
In 1862, he began to study art under Charles Gleyre in Paris, who had studied under Ingres, and was also Claude Monet's teacher. Claude and Renoir became friends, and would later on start Impressionism together. Since his family was poor, he sometimes didn't have the money to buy art supplies during the 1860's. The Paris Salon though accepted a few of his works in the 1864 exhibition. His big break came with the first Impressionists exhibit, held in 1874. Six pieces were shown, and they caused a big sensation. He destroyed the most popular one, Esmeralda Dancing with her Goat around a Fire, after the show.
With the official beginning of Impressionism, Renoir thought Manet should lead the group, rather than Monet. Monet's painting Impressionism: Sunrise may have given them the name, but it was Manet's painting that caused the scandal, Luncheon on the Grass. Two fully dresses men sitting on the lawn, with a naked woman beside them gave the critics a heart attack just staring at the painting.
Two years later, he painted his most famous work, Bal du moulin de la Galette. It depicted a joyful event, with people dancing and socializing; a passing moment in time. The light bounces off the Parisian jubilee, giving the impression that this is a grand affair. Since some of the people are sliced in half on the edge of the canvas, it gives the illusion that this scene extends beyond canvas. A scene as joyous as this is usually categorized as a "joie de vie, " meaning joy of life.
A few years later, he painted his other well-known work, Luncheon of the Boating Party. This is a Parisian leisure party, meant to portray another passing moment in time. The light shining down on them tells the viewer that it is lunch time. One of the models in the painting, Aline Victorine Charigot, would end up being Renoir's wife. The people on the boat are all laughing and flirting, having a grand old time.
In 1881, Pierre traveled to Algeria, because he associated the place with Delacroix, who had painted many scenes of the country. He then went to Madrid, to see a collection of Velázquez paintings. Afterwards, Renoir journeyed to Italy to see a compilation of Titian, then Rome to see Raphael's works. These were some of his favorite artists. On his way home though, he caught pneumonia, and had to convalesce in Algeria for six weeks. The illness left him with respiratory problems for the rest of his life.
His paintings over the next few years were influenced by Rococo art. For example, The Bathers, painted in 1887. They were sensual nudes, and instead of the short, quick brush strokes that are in his Impressionists paintings, these are long and smooth, so the women look soft. Someone once asked him how he knew when these paintings were finished, and he replied, "I know my nudes are finished when I feel like smacking them on the bottom."
Renoir finally married Aline in 1890. He had already a kid with her, a son named Pierre in 1885. After the marriage, he had two more sons with her. In 1892, he developed Rheumatoid arthritis. To make it less painful to paint, they moved to the south of France, near the Mediterranean, at a farm in Cagnes-sur-mer in 1907. He continues to paint for the last 20 years of his life, but it was difficult. He wasn't able to move much, so the paint brush had to be put into his hand. He couldn't move the easel either, so it was put on wheels. He was permanently in a wheel chair as well.
Before Pierre died, he went to Paris in 1919. He went to the Louvre Museum, and saw his paintings hanging with the masters. This is what he waited his entire life for, and it had finally happened. He returned home happy, and died on December 3, 1919 at the age of 78. He is buried in Cagnes-sur-mer.
Source: totallyhistory.com