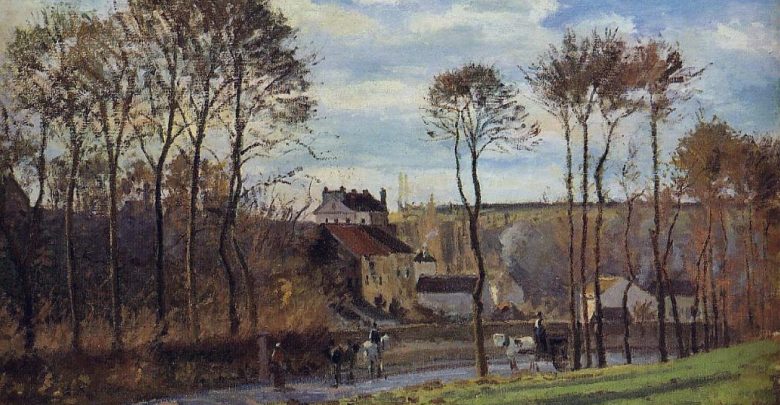 Camille Pissarro was born on July 10, 1803 U.S. Virgin Islands, and died at the age of 100 on November 12, 1903 in Paris. He was one of the most important and prolific representatives of Impressionism.
Camille Pissarro's painting "Bords de la Seine at Bougival" of 1871 has the dimensions of 27 x 40 cm. It is from the collection of the art dealer Robert Noortman.
Biography of Camille Pissarro
After Pissarro in 1855 moved to Paris, he became a pupil of Jean-Baptiste Camille Corot . In 1959, his painting "Landscape at Montmorency" was added at the Paris Salon. However, there was no further attention. In the same year met Pissarro the painter Claude Monet and Paul Cézanne know.
1869 and 1870, Pissarro painted often with Claude Monet and Pierre-Auguste Renoir. They would share the same motive, paint it and often they compare their works afterwards.
The art theft of Pissarro's "Bords de la Seine at Bougival"
In February 1987, thieves stole from the Maastricht gallery of art dealer Robert Noortman nine paintings from the 17th to the 19th century, such as Jan Brueghel's "monkeys", Pissarro's "Bords de la Seine at Bougival" by Pierre-Auguste Renoir's 1871 "La CLAIRIERE ". The paintings were insured and there was no trace of the perpetrators, the Noortman the sum insured for five million guilders of Lyods received. The English insurance Lyods and Robert Noortman contacted the Dutch private detective Ben Zuidema, who has specialized in art theft. But Zuidema is no trace, which can lead to the stolen paintings from 1987.
In November 2008, a certain Kahn contacted detective Zuidema. Kahn claims he had in 1987 a client who was to burn the stolen paintings in order of Norrtman. However, his client burned only one of the new paintings. Kahn now wants using Zuidema blackmail the family of the late Robert Noortman and require five million euro ransom. Zuidema plays the complicity and agreed to a meeting with Kahn, however, contacted the police.
If the agreed delivery of the paintings in the Grand Hotel Voncken in Valkenburg Netherlands a special command of the police intervenes and arrested three suspects. All paintings can be ensured unless the allegedly burned painting by Meindert Hobbema "The Water Mill".
Source: www.artrobberies.com