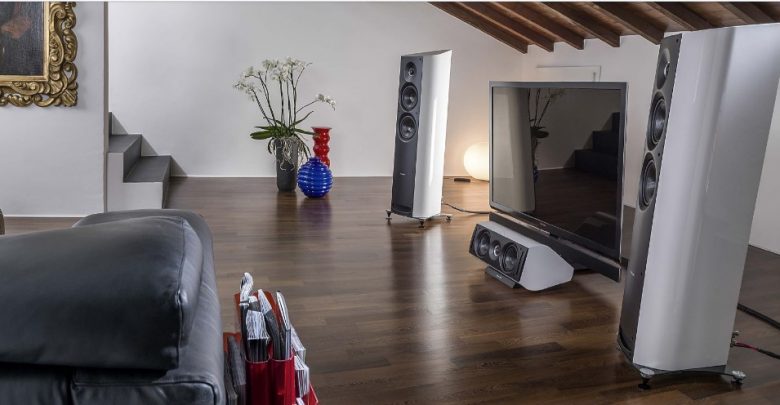 Photo by Sonusfaber.com
Sonus Faber means "handmade sound" and it is much more than just a name of an Italian company – it is the best description of the acoustic speakers this company produces.
The history of Sonus Faber dates back to 1980s when the first project was introduced by its founder – Franco Serblin. He was an artist, a designer, a cabinetmaker and an avid music enthusiast, and all these talents were mixed in Serblin's lifelong pursuit to construct and produce acoustic systems. Even the earliest of his works were highly appreciated by connoisseurs and gourmets of a good sound.
After Serblin gathered around himself a team of enthusiasts and Sonus Faber has become a company with its first headquarter in a small laboratory, the first product called Parva was launched. It was March 25, 1983, when the music world saw a unique two-way monitor speaker covered with a walnut wood. It was followed by Minima, Electa and Electa Amator introduced in the period from 1984 to 1987 – all created from natural materials for natural sound. These models paved the companies way to the international level.
The next speaker was introduced in 1991 and was followed by the extraordinary lute-shaped Guarneri Homage introduced in 1993. In between 1995 and 1997 the Concerto collection was launched. It was exactly the Concerto that made quality sound available to the masses at affordable prices.
Models produced before the beginning of the 21st century became classics of the hi-fi world. What is more, all of them were used as a starting point for the development of modern speakers.
For a long period of time, the company was focused on the creation of acoustic speakers for stereo. But with the introduction of the iconic Home collection, Sonus Faber made its way to the market of the highest quality home cinema systems. Later, in 2002, the Cremona collection that continued the production of both home cinema systems and lute-shaped design was launched.
In 2003, the headquarter moved to a violin-shaped building that was described by its architect as a "place for music". A year later an innovative Sonus Faber Stradivari Homage was introduced. It was followed by Amati Anniversario and Guarneri Memento.
In 2007, a lighter version of Stradivari named Elipsa was introduced. It was followed by the Toy collection introduced in 2008.
One of the most notable and bright projects of the company – the Sonus Faber project, was introduced in 2009. It was unique, priceless, limited collection that featured the most progressive techs existing at that time. It was followed by the freshly designed 3rd generation of Homage collection named Amati Futura and Guarneri Evolution.
The period from 2011 to today started with the launch of the Aida collection followed by Venere Line, Olimpica and Homage Vox, Ex3ma and Lilium, Chameleon, Venere Signature, SF16, and Homage Tradition collections, and this year, a full-new Aida was introduced.