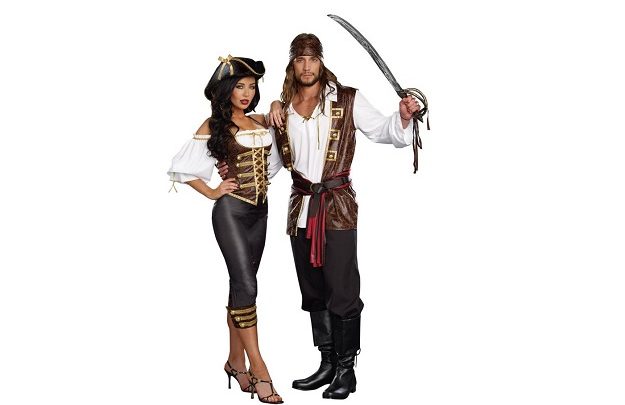 Are you thinking of replicating a pirate look during Halloween or a costume party but do not know what to assemble for your costume? Looking as authentic as you can with your pirate fashion would make your pirate costume appreciated and admired. So, what are the features that make a great pirate look?
Know Who or What the Pirate Represents
A pirate practically lives on the ship, having sailed for many years and stayed aboard on the ship as a result. Therefore, He or she has no meaningful cloth – all faded, worn out and quite ragged. And, since the pirate washes his or her few clothes in salty water, they become even more faded and worn out.
Besides, you know how cold it can be out on the sea, so the pirate practically drinks rum like water to stay warm and also wears a coat or jacket over a shirt or top. A pirate generally dresses in a certain way, donning a hat on, boots on the feet, poofy tops and patched/ripped pants.
Know What Items to Assemble
Now that you know who or what a Pirate represents, you need to assemble the right clothing, props and accessories to replicate an authentic pirate look with your pirate fashion. Wondering what items to gather in this case?
For clothing items, you should favor faded poofy tops or shirts. It will be great to get shirt with drawstring hanging out from the collar. For pants, the ripped and patched ones are the most suitable for a real pirate look. Just like the tops and shirts, your pants should be well faded as though they've endured many years.
For props and accessories, you can hardly go wrong with leather belts with space for your pirate sword. Of course, you need a plastic sword as an essential part of your props.
A bottle of fake rum will help accentuate your pirate look as you occasionally take a swig from the bottle. Donning a hat is a must for any meaningful pirate look – the tricorn kind of hat. Also, don't forget a bag of coins, a fake parrot that will stand on your shoulder, and thick gold chain matched with gold earrings. You should also consider having temporal tattoo of a skull or similar images on your body.
Finally, you need to have the right look to accentuate your pirate fashion. In this case, you should get a tanned body that shows you've spent a good part of your life aboard a ship – a couple of darker shades of makeup will play this trick very well.