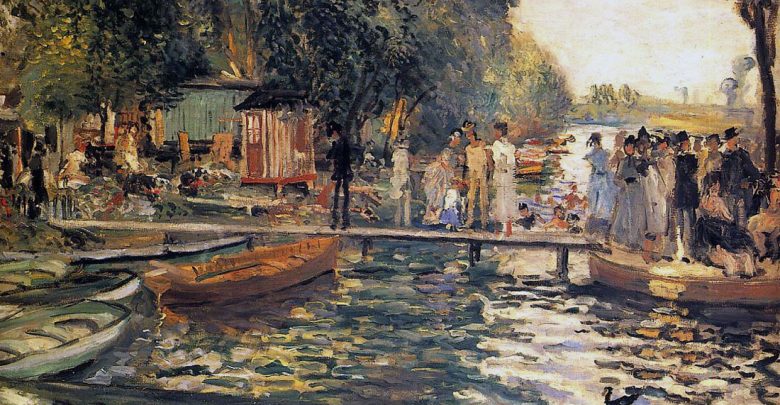 A popular spot for artists and writers, the Moulin de la Galette was the subject of many paintings during the 19th and early 20th century. Like Renoir, artists such as Picasso and Van Gogh were keen to capture its ambience and joyfulness, though each canvas differs from the next. Below are examples of other works focused on the Moulin de la Galette.
Henri de Toulouse-Lautrec, Moulin de la Galette, 1889:
Along with Cezanne, Van Gogh, and Gauguin, Toulouse-Lautrec is regarded as one of the greatest painters from the Post-Impressionist period. Like Renoir, Toulouse-Lautrec was attracted to Montmartre for its somewhat retro feel and its popularity among fellow artists.
Toulouse-Lautrec painted the Moulin de la Galette thirteen years after Renoir, but adopted the same angle; people sitting at tables and socializing while couples enjoy the music and dancing in the background. In contrast to Renoir's sunny painting, Toulouse-Lautrec uses darker colors and focuses on being inside by using browns and grays. Toulouse-Lautrec's painting is also different from Renoir's because it does not focus on the faces of the people whereas Renoir painted almost every figure looking directly at the viewer. Thus, this gives the feeling of Renoir's work being more staged.
Van Gogh completed this painting in 1886 whilst living with his brother in an apartment in Montmartre. Painting outdoors encouraged him to explore the effects of natural light and the result is a luminous palette that departs from his usual subjects of somber tones.
Pablo Picasso, Moulin de la Galette, 1900:
Picasso created Le Moulin de la Galette in 1900. In it he paid tribute to French artists such as Toulouse-Lautrec and Steinlen as well as his Catalan compatriot Ramon Casas.
Picasso's depiction of lamps burning in darkness and women wearing lipstick portrayed a very different ambience and created a more mysterious canvas than Renoir's. Picasso used more fashionable outfits too. However, like Renoir's creation some 14 years earlier, Picasso's work resembles a stage performance and his figures looked posed. Furthermore, the people in Picasso's canvas are also looking to the viewer. It seems that both Picasso and Renoir cared about the identities of those they painted.
Kees Van Dongen, Le Moulin de la Galette, 1904:
Van Dongen was a resident of the Bateau-Lavoir in Montmartre and this district became the subject of a number of his works. Picasso also lived there and with a studio next to Van Dongen, the two became firm friends. Van Dongen experimented with his art and his work was seen as moving towards a form of Expressionism. His scene at the Moulin de la Galette was, according to some, giving way to portraits.